There is no doubt Guinness is one of the most famous beers in the world.
And you'll be hard-pressed to find anyone drinking anything else at Irish pubs across Perth on Sunday as patrons young and old rise early to get clad in green and celebrate St Patrick's Day with a pint of the black stuff.
With a river of proud Emerald Isle pubs across Perth, deciding where to drink on the day can often come down to where the tastiest sips of Guinness are poured.
To be sure,WAtoday lifted the lid on which pub in Perth pours the best pint of this iconic beverage that's now brewed all across the world.
Sources who really know their Guinness told us Durty Nelly's in the Perth CBD, Paddy Malone's in Joondalup, Fibber McGee's in Leederville and Murphy's Irish Pub in Mandurah are tops for the quality of Guinness they pour and serve.
But all roads eventually led to West Leederville, where Paul North established Perth's foremost Guinness taps 26 years ago.
So why did everyone we spoke to insist his establishment was best when it came to serving a pint of the 'ebony nectar'?
"Possibly because we do sell the best Guinness in Perth," Mr North said without a hint of arrogance.
"It's all based on cleaning the lines regularly, and having a short draw on the lines … so we've only got literally less than three metres of the line between the keg and the tap.
"Which means the Guinness is fresher. It isn't sitting in the line like a lot of places … there might be half a keg in the line."
JB's fastidious approach often sees this humble but hearty cavern packed full to the brim no matter the time or day and frequent nods from the head honchos at the brewery in Ireland for selling more pints of Guinness than any other establishment in WA.
Anyone lucky enough to have put their lips to a Guinness from the land of the Erie knows the quality of the product differs depending on where you are in the world. But why?
"I think it's just the water… but Guinness in Ireland is a lot smoother and creamier, whereas here it tends to have more bits in it which means it's more bitter," Mr North said.
"But it's still a good product."
Mr North will welcome another chorus of revellers through his doors to celebrate St Patrick's Day, easily the pub's biggest trading day of the year, but a day that is most unusual for the popular publican.
"St Patrick's Day is a day where we celebrate our independence, we celebrate our friendship, we celebrate our cuisine, we celebrate Guinness," he said.
"For the pub, it means obviously extra trade …. and a lot of pride from my point of view with the people that come here."
"But it is one of the few days of the year where I don't drink, 'cos I'm too bloody busy.
"It would be just mayhem if I was drinkin!"
A strong Irish contingent will also be on hand at Fenians Irish Pub in the city. The Adelaide Terrace bar estimates it will sell about 1000 pints of Guinness on Sunday.
"With over 20 different beers on tap and Guinness being by far our most sold beer, I think it's fair to say that we are well known for it," food and beverage manager Jonathan Kunz said.
The story behind Guinness began in 1759 when a man by the name of Arthur Guinness started making beer at the St. James's Gate Brewery in Dublin.
That same year he infamously signed a 9000-year lease at St. James's Gate at an annual rent of £45 and, some 10 years later, six-and-a-half barrels of Guinness were put on a ship bound for England and the rest, as they say, is history.
Now the iconic beer is sold in more than 150 countries, with an estimated 10 million glasses consumed daily.
Guinness global brand ambassador Don Marnell said, contrary to popular belief, the stout was not as black a beer as most people think.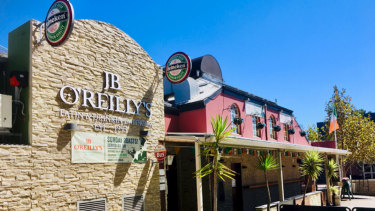 "While a lot of people assume that Guinness is a black beer, shine a light through the bottom of the glass and you'll actually see it has a distinctive ruby red colour," he said.
Mr Marnell said there were some golden rules when it came to pouring and drinking a pint.
"The one thing to avoid when serving a perfect pint is trying to rush the pint to the customer," he said.
"A Guinness drinker will not only be happy to wait, they expect and embrace the time it takes to perfectly serve a Guinness.
"(But) the one common mistake first-time Guinness drinkers make is they simply sip the head of the beer and experience a foamy bitterness.
"Drinking the beer in a generous mouthful will give you the full experience."\
That sounds like good advice for all Guinness drinkers.

HOW TO POUR A PERFECT GUINNESS (from a can):
1: First, start with a clean, dry glass.|
2: Pour the Guinness Draught into a glass, tilted at 45 degrees, until it is three-quarters full.
3: Allow the surge to settle before filling the glass completely to the top. Your perfect pint, complete with its creamy white head, is ready to drink.
4: If at home, let the Guinness chill for at least three hours before pouring the contents into a large glass in one smooth action.
Source: www.guinness.com
David writes about sports and lifestyle for WAtoday.
Phil covers breaking news with a focus on court, crime and police for WAtoday.