Paris is on high alert with major security measures in place ahead of fresh "yellow vest" protests which authorities fear could turn violent for a second weekend in a row.
Shops, museums, metro stations and the Eiffel Tower were due to close, while top-flight football matches and music shows were cancelled.
The French capital experienced its worst riots in decades last weekend, in scenes that shook the country and plunged President Emmanuel Macron's government into its deepest crisis so far.
France's interior minister, Christophe Castaner, said he expected "only a few thousand people" to descend on the capital after the 8,000 protesters counted last weekend, "but among them are ultraviolent individuals".
He said: "These past three weeks have seen the birth of a monster that has escaped its creators," adding that a "large-scale" security operation would be mounted on Saturday.
The minister vowed "zero tolerance" towards those aiming to wreak further destruction and mayhem, after dozens of vehicles were torched, shops looted and the Arc de Triomphe war memorial was wrecked last Saturday.
France's prime minister, Edouard Philippe, met a delegation on Friday of self-described "moderate" yellow vests who have urged people not to join the protests.
After the meeting a movement spokesman, Christophe Chalencon, said the prime minister had "listened to us and promised to take our demands to the president".
"Now we await Mr Macron. I hope he will speak to the people of France as a father, with love and respect and that he will take strong decisions," he said.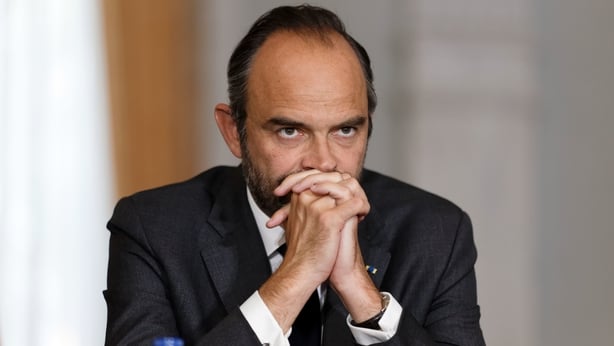 Mr Philippe said 8,000 police would be mobilised in Paris out of 89,000 nationwide, and that a dozen armoured vehicles would be deployed — a first in the capital.
Shops around the Champs-Elysees boulevard — the epicentre of last week's battle – spent Friday boarding up their windows and emptying them of merchandise.
Much of the French capital will effectively be on lockdown.
The operators of landmarks like the Eiffel tower and the Louvre and Orsay museums said they would be closed, along with operas, theatres, libraries and major department stores.
Foreign governments are watching developments closely in one of the world's most visited cities.
The US embassy issued a warning to Americans in Paris to "keep a low profile and avoid crowds", while Belgium, Portugal and the Czech Republic advised citizens planning to visit Paris over the weekend to postpone their visit. 
The Department of Foreign Affairs advised Irish people in Paris to avoid areas where protests are taking place, check for transport disruptions and closures before setting out, and to follow advice of local authorities, as, it said, the protests may move quickly.
In a warning of impending violence, an MP for President Macron's party, Benoit Potterie, received a bullet in the post on Friday with the words: "Next time it will be between your eyes".
Calls on social media for protesters to attack the police or march on the presidential palace have especially rattled the authorities.
This week, Mr Macron gave in to some of the protesters' demands for measures to help the poor and struggling middle classes, including scrapping a planned increase in fuel taxes and freezing electricity and gas prices in 2019.
But the "yellow vests", many of who have become increasingly radicalised, are holding out for more.
Named after the high-visibility safety jackets worn by demonstrators, they began blocking roads, fuel depots and shopping centres around France on 17 November over soaring fuel prices this year.
Since then the movement has snowballed into a wider revolt against Mr Macron's economic policies and his top-down approach to power.
Protests at dozens of schools over stricter university entrance requirements, and a call by farmers for demonstrations next week, have added to a sense of a government under siege.
And the hardline CGT union, hoping to capitalise on the movement, has called for rail and Metro strikes next Friday to demand immediate wage and pension increases.
Interior Minister Castaner estimated that 10,000 people were taking part nationwide.
"10,000 is not the people, it's not France," he argued, despite polls showing the protesters enjoying strong public support.
The protesters accuse the President Macron, a centrist, of favouring the rich and city-dwellers over those trying to make ends meet in car-dependent rural and small-town France.
Many are calling on him to resign.
His "cardinal sin", in the eyes of the protesters, was slashing wealth taxes shortly after taking office.
The 40 year-old former investment banker, dubbed "the president of the rich" by critics, has so far ruled out re-imposing the "fortune tax" on high-earners, arguing it is necessary to boost investment and create jobs.
But his climbdown on fuel taxes — intended to help France transition to a greener economy — marks a major departure for a leader who had prided himself on not giving into street protests.
The president himself has not commented publicly on the crisis since his return from the G20 summit in Argentina a week ago.
On Friday he met gendarmes in the eastern Paris suburb of Nogent-sur-Marne ahead of the Saturday demonstrations.
He is expected to address the protests in a speech early next week.