Kerr, O'Reilly and the U18 team that won the European championships in '98.
Image: Keith Heneghan/INPHO
TWO DECADES HAVE passed since Ireland's underage teams did the unthinkable.
In the summer of 1997, the Boys in Green finished third in the Fifa World Youth Championships in Malaysia — progressing all the way to the semi-finals before going out to eventual champions Argentina, whose talents included Esteban Cambiasso, Juan Roman Riquelme, Walter Samuel and Pablo Aimar.
That sparked the belief that young players from this island could compete with the best in the world, and the following year, Ireland were — quite remarkably — crowned European champions at both U16 and U18 level. 

Kerr, O'Reilly and the U18 team that won the European championships in '98.
Source: Keith Heneghan/INPHO
Aided by his loyal assistant, the late Noel O'Reilly, Dubliner Brian Kerr was the man who masterminded the most successful period in the history of Irish football. 
It spawned a golden generation and several players involved would go on to carve out successful careers at the very top level of the game. 
To mark the 20th anniversary, a new, must-see documentary celebrating those achievements is set to premiere next week. 
Written and directed by Kevin Brannigan and produced by Gary Lennon, 'Kerr's Kid: The Story of Irish Football's Golden Generation' will be shown at The Sugar Club in Dublin on Monday evening, and eir Sport will then air it on Friday, 23 November at 10pm. 
"When those games were happening, I was 12 or 13 and I remember being brought up to Dublin airport to see the teams coming home as my dad was working there at the time," Brannigan tells The42. 
"I've worked in TV production for the last 10 years or so, and it was about a year or two ago that I started thinking about the anniversary coming up. I put the feelers out to see if anyone was doing anything, but no one was.
"I met Gary, who has done a couple of docs and films, and I was saying to him: 'It would be amazing to do something on it.' So we wrote the BAI [Broadcasting Authority of Ireland] submission together, then went ahead and did the film.
I always knew it was a great story. There have been plenty of articles that came out of it and the players always talked about it in such a fond way."
An unlikely tale is told by the man himself, Kerr, and there are interviews from a star-studded line-up of former players – Robbie Keane, Damien Duff, John O'Shea, Richard Dunne, Richard Sadlier, Stephen McPhail, Trevor Molloy, Neal Fenn and Dean Delany — while Irish Times football writers Emmet Malone and Ken Early also give their take.
"I generally spend most of my time chasing people for interviews and shoots, but with this, everyone was 100% committed to it straight away," Brannigan tells The42.
"The likes of Duff, Robbie and all the lads were so keen to give their time once we said it was for Brian."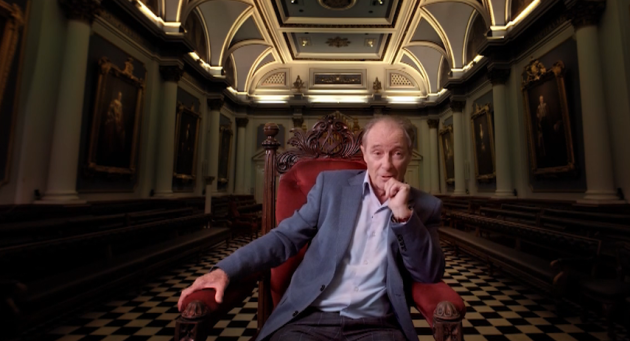 Kerr speaking during the film.
Source: Kevin Brannigan
Having led St Patrick's Athletic to a long-awaited league success in 1990, Kerr admits being pre-occupied with the domestic game while the nation fell in love with Jack's Army. 
"With the Charlton era, and the fact that we found a way to win, 99% of the people in the country didn't care how we were doing it and they were just glad we were doing it," Kerr states during the film.
"I cared, and some other serious football people cared. I didn't enjoy looking at it."
Witnessing the demise of Ireland's youth teams and "the lack of respect towards them", he decided — after a few drinks one Friday night — to put his name in the hat for a position with the FAI as manager of Ireland's youth teams.   
"My intention was if I got the job, I would try to restore a bit of order to it and give the job the respect it deserved."
As it turned out, he would go on to do far more than that.
Produced last summer and featuring excellent archive footage, both behind-the-scenes and of the football itself, the film captures what those experiences meant to the players, who thrived in an environment of hard work and fun created by Kerr and O'Reilly.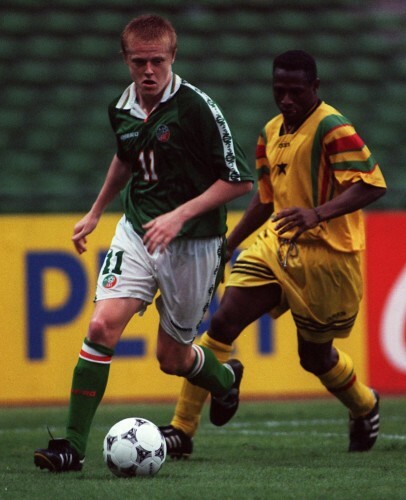 Damien Duff facing Ghana in the third/fourth-place play-off in 1997.
Source: EMPICS Sport
"I was only saying to my mate in the pub the other night, I look back on the period when I went to the Gaeltacht as great days," explains Brannigan. "Obviously, these lads didn't go to the Gaeltacht because they were playing for Blackburn Rovers or whoever, but I think see these summers the same way.
"They were off in places like Malaysia and Nigeria, Brian was creating a great atmosphere and Noel had them doing off-the-wall stuff to keep them entertained throughout.
"They were coming from British clubs in the late 90s when the bullying mentality was still acceptable with the older players playing pranks and it was passed as character forming, but it sounded like a pretty shitty environment to be in.
"Then they were brought into the group with Brian and Noel, who fill them with the confidence that they could take on the world, that they were just as good as kids in Spain, Italy and Portugal. It wasn't just about football either, they were giving advice on how to be good people. That's why they still have such a fondness for Brian and Noel."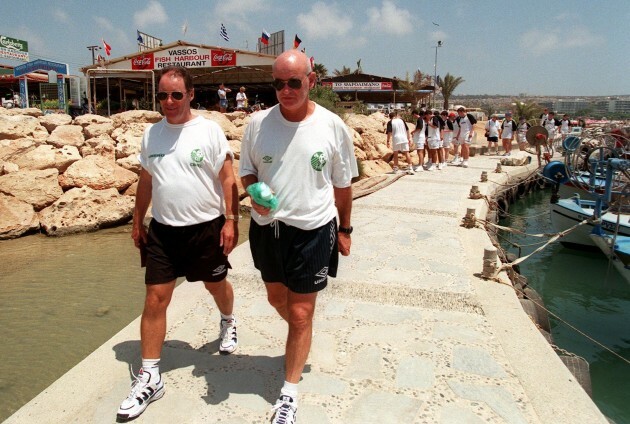 Kerr and O'Reilly.
Source: Lorraine O'Sullivan/INPHO
O'Reilly's influence can not be understated and there's an emotional moment when Kerr opens up about his old friend, who sadly passed away in 2008. 
"He was excellent at helping me make big decisions, which I always ran by him," Kerr says. "He was prepared to argue with me at times and throw out some mad suggestions in relation to possibilities with the team. Ultimately, we always came to an agreement on how to go. 
Without him, I would have been truly lost and, I must say, I often felt lost after he was gone." 
"They were amazing times," adds Duff, who went on to become one of the greatest wingers this country has ever produced.
"They worked so well together and we're all still devastated and we miss Noel dearly. He's a big loss to Irish football. They were just like Bill and Ben, the best mates around." 
We meet Liam George, who scored the winning penalty in the U18 final against Germany, now working as a physiotherapist after lining out for 20 clubs, while Robbie Ryan is employed as a cable linesman for the London Underground after a career that didn't quite hit the heights that some of his team-mates did.
"That day with Liam George, I thought he might be bitter towards football or full of regret but it changed my opinion on what success is," says Brannigan. "He had this really zen approach to life and said 'Look, I did all this stuff that none of my other mates did. Now I've got a nice life and I'm happy'."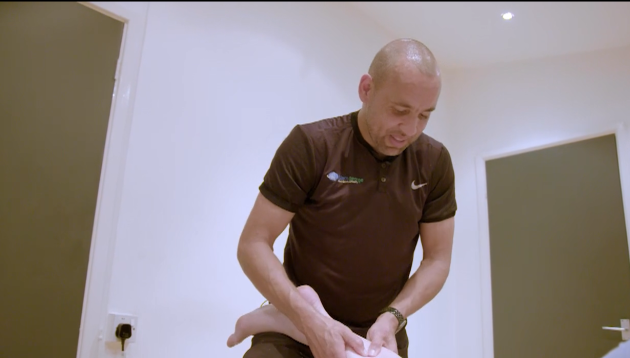 Liam George is working as a physio these days.
Source: Kevin Brannigan
Liam Miller, who tragically died earlier this year after a battle with pancreatic cancer, also features. A hugely-talented teenager, he would go on to earn dream moves to Celtic and Manchester United before coming home to line out for his local club, Cork City.
"For a 36-year-old to be gone, it's not right," the director adds. "He died before we interviewed Brian, but there's a really nice shot in it where John O'Shea gets the cup and passes it to Liam."
Just under an hour long, this is essential viewing for every Irish fan and Brannigan believes it was important to give the subject matter its deserved recognition. 
"I did feel aggrieved that the FAI aren't shouting to the rooftops on the 20th anniversary that this was achieved," he concludes. 
"That's the main thing I'm happy with — people aren't going to be allowed to forget what Brian and the team did."
Subscribe to our new podcast, Heineken Rugby Weekly on The42, here: